In Memory
John Merle Thayer (Thayer) VIEW PROFILE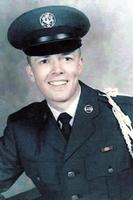 John Merle Thayer was born on July 11, 1951.
A1C John M. Thayer served with the 15th Aerial Port Squadron. An air cargo specialist, A1C Thayer was in charge of the ammo dump at Qui Nhon Army Airfield in Binh Dinh Province, RVN. On October 7, 1970, A1C Thayer was fatally injured after being hit by a truck at the airfield. The following is a personal account of Thayer's loss by fellow Airman First Class John Nagel: At approximately 10:30 PM, Thayer and I set out to walk the inside of the perimeter of our AO (area of operations) within the base. The base had been subjected to incoming rocket fire from time to time, and we routinely checked the area for peace of mind before retiring for the night. As we were crossing a service road inside the base, a Korean driving a large truck came around the corner of a building with lights out (a common practice at night) and struck Airman Thayer. Some others helped me transport Thayer to the evacuation hospital, but he died before we were able to get him medical assistance. [Taken from coffeltdatabase.org and information posted at virtualwall.org by Jerry A. Eversman (March 2008)]
Rest in peace John. Your classmates will forever thank you for your sacrifice. Fly high until we meet again.
Click here to see JOHN MERLE's last Profile entry.